Some of these games are near impossible to judge as we won't really know who's playing in each team! It's week 17 and the reason that most fantasy leagues don't run this long is that a lot of teams rest their starters when the final week hit. They know there's nothing to play for and there's no reason risking players getting injured, so trying to figure this all out is the task I have this week! First of all we need to figure out who has something to play for. I had a go doing it myself last week, but fortunately there's a lot of info-graphics available for me already this week! The two screens below are from @NFLResearch on twitter.
So from the NFC side of things… The Eagles have the #1 seed. The Vikings pretty much have the #2 seed, The Rams will be the 3 or 4 seed, McVay has already said he'll be resting starters this week, it looks like Goff and Gurley are out, which also means that the offensive line starters will probably be out too. Basically… The Eagles, Vikings, Rams, Saints and Panthers are all in the playoffs and the remaining spot is going to Atlanta or Seattle.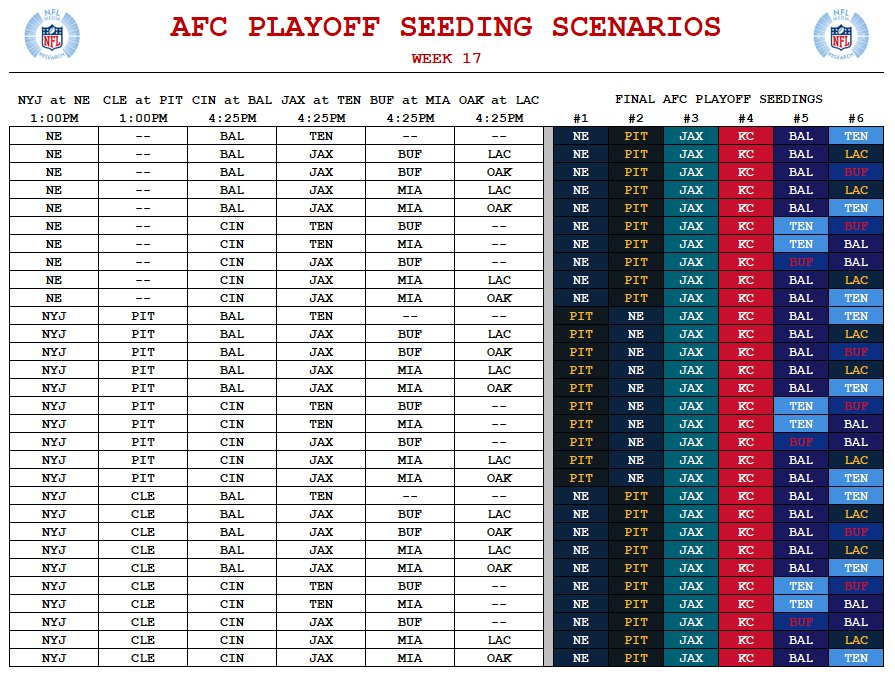 On the AFC Side of things the Pats and Steelers will be the 1 and 2 seeds. The Jags and KC are locked up as the 3rd and 4th seeds. Unfortunately the Ravens are pretty much guaranteed a playoff spot. Although they need to beat the Bengals to guarantee it. Then the final spot will be going to the Titans or the Chargers. The Titans face the Jags and the Chargers host Oakland.
---
Carolina Panthers (+3) at Atlanta Falcons – o/u – 45
So this one most definitely has future implications! The Falcons need the win to get a playoff spot. If they win, they're in as sixth seeds. A loss opens the door for the Seahawks to scrape in. The Panthers will be without Damiere Byrd who had scored in consecutive weeks, he returned a kick off 103 yards for a TD. Then slipped on the following return and injured his knee, a shame as he was getting more and more looks in that offence in recent weeks. Kaelin Clay looks like he could be the man coming in to add some pace to the Panthers attack. The more likely route would be to run McCaffrey, Stewart and Cam, and with the smallest of possibilities of a second seed it would make sense for them to go for the win. The Falcons are pretty much at full strength. The Panthers are much stronger against the run than the pass so it would make sense to throw to Julio, Sanu and Hooper, although with Kuechly patrolling the middle probably best to aim for Julio all game! A very tough one to call, it could go either way, but I feel the Panthers are playing better in recent weeks, so I'll side with them – Panthers – Kaelin Clay anytime – 20/1 (Skybet)
Cincinnati (+9.5) at Baltimore – o/u – 40
The Ravens need a win to get into the playoffs, and shouldn't have much of a problem against the Bengals, a team they embarrassed on the road in week 1 which should have been a look into how the season would go for my team. Not well. Dalton through 4 picks and coughed up a fumble in that game and while he's been a lot better since then he may well be seeing ghosts all game. The Ravens have improved on offence and can actually score points now. I wouldn't be touching the spread, but the Ravens should win this one – Ravens
Green Bay (+7) at Detroit – o/u – 43
A nothing game now that the Lions are out of the hunt for the post-season. Obviously the one game the Bengals have won in the last month was the one I went against them. The Lions just can't run the ball, and until they do they won't get as far as they probably should do. They are good against poorer teams and GB is one of them so  – Lions

Houston Texans (+5.5) at Indianapolis – o/u – 41
Other than the Browns these are the two worst teams in the league. Especially this week with Hopkins missing for the Texans. He was the only reason to watch this game. The Colts are actually favourites, but would probably prefer to lose to help get the best draft spot they can, who wins when both teams want to lose? – Texans
Buffalo Bills (-2) at Miami Dolphins – o/u – 42
Officially the Bills can still make the playoffs, they won't but on paper, they could do. And if they do miss out, then they only have the ownership, management to blame. I don't think they'd have beaten the Chargers anyway, but the 5 INT first half from rookie Nathan Peterman could be the reason why they're not going to the playoffs for the first time in 17 years. I think the Dolphins will play up in their final home game of the season which makes is all a moot point – Dolphins – Mike Tolbert anytime – 13/2 (Skybet)

Chicago Bears (+12) at Minnesota – o/u – 38
Teddy B is back! He'll be starting at QB this week and his team could do with him getting them the win as Bradford isn't a cert to be healthy for the playoffs so the bye week would really help them out! They are very good at home, and the lure of being the first time to play in a home Superbowl should be enough motivation for anyone out there! The Bears just aren't very good at the moment, it should be John Foxs' last game as HC which will please the Chicago faithful and ending with a whimper seems the perfect way for his tenure to end – Vikings – Jarius Wright anytime – 7/1 (365) – No particular reason on this, just the feeling that they'll try and rest Thielen and/or Diggs towards the end of the game if they've wrapped up the #2 seed, and he's been the third/fourth WR for a lot of the season, and for the same reasons – Laquon Treadwell anytime – 10/1 (365) – Big odds on both of them

NY Jets (+14.5) at New England Pats – o/u – 43.5
They still won't start Christian Hackenberg, he must be so bad for them to not give him same game time even after 2 years there. The Pats need the win to guarantee the #1 seed and probably a Superbowl game. Although I'm sure they'd rather avoid the Jaguars if they could. – Pats

Washington Redskins (-3) at NY Giants – o/u – 39.5
Eli's last game? Maybe. Geno has been de-activated so rookie Davis Webb will be backing up Eli, I would expect him to probably get a half. The Redskins would probably be sensible to see what they've got as well ass this could be Cousins final game at QB for them. There's also rumours that coach Jay Gruden could leave too. I'd be more than happy to see him back in Cincinnati. As for the game? It's dead rubber. So the home team? – Giants

Dallas (-3) at Philadelphia Eagles – o/u – 39
Cowboys are out. Eagles are the #1 seed. I suspect the Eagles will rest players despite the fact they have a bye next week. – Cowboys

Cleveland Browns (+6) at Pittsburgh – o/u – 36.5
Will Landry Jones being the starter be enough for the Browns to avoid becoming the second team ever to go the whole season without a win? Probably not, but no Big Ben or Lev Bell, well that definitely helps them! Definitely don't back the spread, but can the Browns really win? I don't think so. – Steelers – Only one place with odds so far and they're all really short. That's annoying.

New Orleans (-5) at Tampa Bay – o/u – 49
I think this will be closer than many others believe. The Bucs played well 2 weeks ago at home to the Falcons, and Jameis has actually had a very good month, but with the Saints wanting to secure the division as a higher seed I can't see them throwing it away now. Again wouldn't back them against the spread but they should have enough – Saints

Jacksonville (+2.5) at Tennessee – o/u – 41.5
The Jags are guaranteed the 3 seed. The Titans need the win to stand a chance of getting into the playoffs. The more desperate team wins right? Nope, Marrone has said he's playing all his guys and they're frankly a far better team than the Titans. – Jags

Kansas City (+4.5) at Denver – o/u – 38
KC has the 4 seed and the division. They will be giving rookie Patrick Mahomes the start against a still pretty good Denver defence and I'm pretty sure that Vance Joseph doesn't want to get sacked after 1 season as HC. He, and they have more motivation and it's at mile high. So – Broncos

Oakland (+7) at LA Chargers – o/u – 42
Chargers need the win and are the better team, I personally need a decent game from Mr. Rivers to bring home some cash in the passing yard market, and he's playing against one of the worst defences in the league so I'm hopeful! The Raiders have had a terrible year really and Derek Carr has regressed. They'll be wanting it to be over! – Chargers

San Francisco (-4) at LA Rams – o/u – 43.5
I had the Rams pencilled in for the win here, they could do with winning it still, but McVay is going to be resting Goff, Gurley and probably a lot of the offensive line and going up against a 4-0 49ers team since Jimmy "the saviour" Garoppolo took over it could be a bit of an upset, although the Niners are now favourites in this game. I think I agree with Vegas and will have to go with the – 49ers

Arizona (+9) at Seattle Seahawks – o/u – 38
The Seahawks need the win to stand a chance of getting into the playoffs. Even with all the injuries they've had on defence I still think they've got too much for a Cardinals team that's going nowhere. They won on the road in Dallas last week, that was far more of a challenge than this one will be. – Seahawks – DJ Foster anytime – 10/1 (Skybet) I've also taken a punt on Jermaine Gresham anytime – 7/1 (365) – He scored 3 games in a row with Gabbert under centre earlier in the season. They have found themselves a new younger better TE, and are mixing in Troy Niklas as well, so it's a different situation, but Gabbert does like him, so at the odds I'll give it a go.
Summary – 1 point on each
Kaelin Clay anytime – 20/1 (Skybet)

Mike Tolbert anytime – 13/2 (Skybet)

Jarius Wright anytime – 7/1 (365)
Laquon Treadwell anytime – 10/1 (365)
DJ Foster anytime – 10/1 (Skybet)
Jermaine Gresham anytime – 7/1 (365)
With regards to the results of these games, honestly it's a bit of a crap-shoot. You're best of sticking with the games that matter, but even then they're hard to call! I've picked results, only because I have to for OLBG! And figured I'd keep them in here to show where I'm leaning on each.