After 7 long months the NFL season finally returns this weekend so I'm back with my Sunday previews. A little later than intended as this week has been insanely busy now that the season is upon us and frankly I wasn't quite ready for the rush of work and lack of time!
But having built this site and the following from the ground it's something I'm determined to keep on doing.
Opening game was on Thursday night as the Super Bowl favourites the Bills dismantled the holders in LA. It was a sign of intent from the Bills and honestly, it could have been a 50-burger, they left a lot of points on the field in the first half, but the result never looked in doubt. The Rams offensive line looked like a major concern and if they're up against any half-decent pass rush they will be a bet against that week for me at the moment. Josh Allen looked superb, seemingly improving on pre-snap reads while being highly accurate and powerful with that deep shot to Diggs. They look like they're deserved faves for the title this year.
This year I've got @JackHumphreyKM on board for DFS content at our sister site, check out his preview for the weekend – https://nfl-dfs.com/2022/09/11/nfl-week-1-sunday-main-slate-draftkings-picks/ – and use it to join our contest over on DK now! https://www.draftkings.co.uk/draft/contest/129409749 and for this week only the Milly Maker is only $5 to enter! If you haven't played Draftkings and want to open an account, please use the following link, deposit 5 bucks and enter a contest – Draftkings Signup
Sunday Games
New England Patriots +3.5 @ Miami Dolphins: 46
The opening Sky game this year is the Patriots at Dolphins, not the choice I'd have made but there's a solid following for both teams so I can't argue it too much and we get to immediately see the new-look Dolphins team and whether Tua will be able to get the offense going. In theory they should be exciting this year they've improved the OL, brought in countless speedy RBs and the cheery on top, arguably the quickest player in the league in Tyreek Hill. He and Waddle are a good duo.
Things aren't looking as rosy on the other side of the field, the Patriots have been implementing a new blocking scheme and it's safe to say reports haven't been good on it. Whether they revert to last year or not will be interesting here. Mac Jones was the best of the rookies last year, we will have to see if there's further improvement. I think Rhamondre Stevenson is going to slowly take the lions share of carries on the ground with Harris second. Pass-catching group still looks poor, probably led by a guy that the Dolphins didn't want.
Logicially it looks like the Dolphins should win, and do it fairly easily, but you should never back against Belichick against a rookie. So it's a stay away from me, strong lean to Dolphins covering.
Philadelphia Eagles -5.5 @ Detroit Lions: 48.5
Two of the hypest of the hype teams from the off-season meet in Detroit. The Eagles are now joint faves to take the NFC East (something I think they will do) having been a lot longer early in the year. As with the Dolphins, a lot depends on their young QB as they've a loaded roster around him which got stronger with the addition of AJ Brown in the passing game. Miles Sanders looks like he's good to go, so it's him and Gainwell at RB. Will need to see how the offense is balanced.
The Lions have improved as well, a host of pass-catchers brought in to go alongside Amon-ra St. Brown who finished the season strong. They've got a top 10 offensive line and a lot is expected of D'Andre Swift this year, looks for over on his receptions. Their defense is still suspect though, so could be a lot of points in games involving them this year.
The Eagles destroyed the Lions last year and there's been a late move towards them, the line had been -4 for weeks now, but moved to 5.5 overnight so I can't.
Baltimore Ravens -6.5 @ New York Jets: 44
The Ravens had a year decimated by injuries last season, this year. They're coming in still without starting quarterback JK Dobbins and Gus Edwards, so it looks like Mike Davis and newly signed Kenyan Drake will start as the running back duo. Lamar Jackson didn't manage to reach a deal on his new contract, so he'll be playing for a huge paycheck come the end of this season while It looks like Mark Andrews and Isaiah likely will be the main targets in the passing game as the wide receiver corps is poor, led by second-year Rashod Bateman and not much else.
The Jets won the draft, but it's been downhill since then, Zach Wilson injured his PCL in pre-season and will be missing for probably the first 3 games, in a season they should be using to see if they've got anything at QB it's a pain for them, so Joe Flacco starts against the team he won a Super Bowl with, it's an indictment of Wilson that the line barely moved on this one, and is still below 7. They do have some pieces and Breece Hall will be expected to hit the ground running, although Michael Carter may get more carries than some would like in this one.
The perfect teaser leg, but in fairness, the Ravens should be able to cover the 6.5 even on the road. Likely anytime TD a bet for me – 9/2 the best price at Paddypower/Betfair.
Jacksonville Jaguars +3 @ Washington Commanders: 44
The Jaguars come into the season with barely an injury, so Trevor Lawrence will finally have his college teammate Travis Etienne in the backfield which should help immensely, I'm intrigued to see whether his first year ruined him or not. James Robinson has been declared healthy and good to go as well, so it may well be a split backfield for now. They added in the pass-catching group with Christian Kirk and Evan Engram making their first starts here.
The Commies brought in Carson Wentz at QB. He's not exactly highly rated anymore but is an upgrade on what they had last year so you've got to think Terry Mclaurin will be happy playing with probably the best QB he's had in his time there. Antonio Gibson is getting the start at RB after rookie Brian Robinson was shot, it was a role he had lost to B-Rob, so he'll have to look to impress and try and cut down on fumbles.
I actually like the Jags on the road, especially now it's ticked up to 3. But that's relying a lot on Lawrence showing his #1 pick caliber and that's a worry for me.
Indianapolis Colts -7 @ Houston Texans: 45.5
A team I'm not high on, on the road is the Colts. Sure, they dismantled the Texans last year beating them 62-3 on aggregate, but their record in opening games is atrocious so that puts me off backing them to cover a TD. Running back Jonathan Taylor had 145 and 2, and 143 and 2 in games between the two last season. Matt Ryan has come in at QB which should be an upgrade for Michael Pittman and big things are expected of him this year. Parris Campbell is healthy for his one game a year and rookie Alec Pierce looks like WR2.
Davis Mills is adequate, he'll be the Texans QB for the year, he was fine last year. Brandin Cooks is still there and usually puts up numbers regardless of QB, while the offensive line is one of the stronger points on the roster which should help rookie running back Dameon Pierce who blew up the pre-season to quickly earn the starting job here and get to 6th in betting for OROY. He did look good but I don't think the Texans will be in many run-heavy scripts this year.
Colts really should destroy the Texans, but their slow starts to seasons mean I can't back them. I can't back a team who scored 3 points in two games against their opponent either though, so it's a stay away from me. I wanted to take under on Pierce after all the hype, but 51.5 seems very reasonable.
Cleveland Browns +1 @ Carolina Panthers: 42
Fuck the Browns.
Baker Mayfield probably said that many times as well as he immediately gets to face the team who jettisoned him this summer. I don't like the guy, I don't think he's that good, but he was badly treated after playing through injury for his team. Christian McCaffrey is good to go and that's the Panthers really, if he's healthy and looking good then they will put up points. DJ Moore and Robbie Anderson are a good duo and Baker should enjoy having them.
Having said that, I can't be taking the Panthers here, the Browns roster is still good even with Brissett at QB and Chubb/Hunt could run all over. I'm expecting a low-scoring affair but I actually think the Browns win.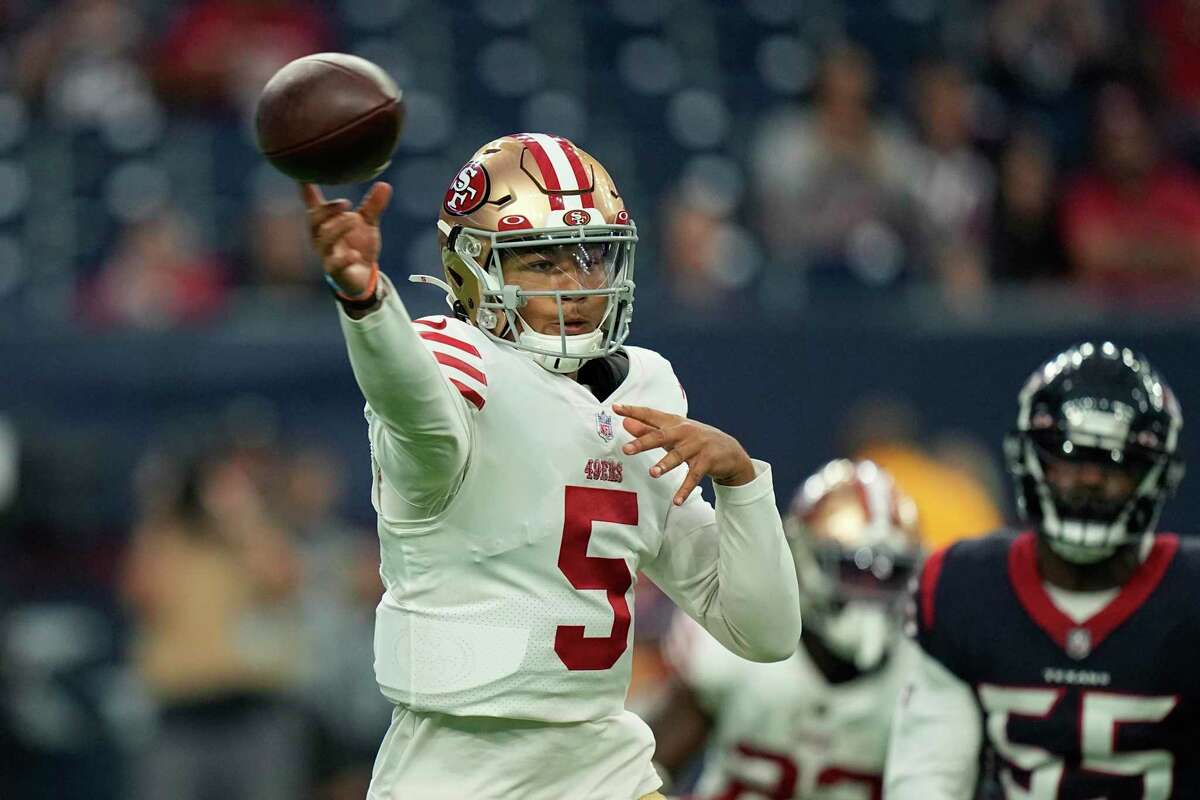 San Francisco 49ers -6.5 @ Chicago Bears: 40.5
Trey Lance starts, which probably means good things for Brandon Aiyuk who he seemed to favour in camp. To me, it remains unknown exactly what role Deebo Samuel will have after being paid in the summer, he wanted fewer rushing attempts so I'm holding off anything involving him in the betting. George Kittle probably misses out here, so Ross Dwelley might be a good look in TD betting. Lance rush yards was the other prop I was waiting for.
The Bears could well be the worst, lowest scoring team in the league this year, Justin Field has been shafted. They have Darnell Mooney and not much else in the passing game, while David Montgomery and Khalil Herbert both look good they'll have the worst OL in the league to run behind. It's not good.
I've taken the 49ers to cover. Over 38.5 rush yards for Lance is fine, and I like o49.5 for Aiyuk as well.
New Orleans Saints -5.5 @ Atlanta Falcons: 43
The Saints gained hype as the summer went on and it looks like Michael Thomas is finally returning to the field for them, he comes in alongside Jarvis Landry and rookie Chris Olave in what looks a good pass-catching group. Alvin Kamara won't be missing any games this year through suspension and they're good everywhere else too. New coaching is the worry but Dennis Allen and Pete Carmichael have been at the Saints for years so not much should change.
The Falcons are a poor roster but there seems some hope that they won't be dismal. Marcus Mariota looked good in pre-season and Kyle Pitts is a stud. He should top 1000 yards this year and will be hoping to get more than 1 TD. He's still yet to score in the US. Rookie Drake London is questionable coming into this, he should be the WR1 with Zaccheaus next up.
Saints should win and cover. Zaccheaus at 17.5 rec. yards seems low to me.
Pittsburgh Steelers +7 @ Cincinnati Bengals: 44.5
Ross Tucker said this week he'll take the Bengals beating the Steelers by 2-scores when he sees it… well I guess he didn't watch last year then.
This is a new look Steelers without Big Ben, so even Trubisky has to be considered an upgrade at QB. The mobility they'll have there now will be essential behind a poor offensive line, it means Diontae Johnson, Chase Claypool and rookie George Pickens should be in for bumps on last year. Najee Harris will be the bellcow, but the line is still so poor that I'm not sure he'll be any more efficient than last year and having a QB who can throw further than 5 yards may limit his receiving work.
The Bengals are the least talked about Super Bowl loser in a long time, but I get it, they don't have the history and most people think last year was a fluke. They addressed the main weakness over the summer with 3 new OL coming in and a rookie taking the LG position. It may take some time to gel but must be better than what they had. With more time Joe Burrow could be the best in the league, his moxie was contagious and the team fully bought in. Chase and Higgins are a fantastic duo and Joe Mixon should be even better with the best OL he's ever had to run behind.
The Bengals should win this going away but there's no chance I'm taking them to cover 7 against these pricks.
Late games
Kansas City Chiefs -6.5 @ Arizona Cardinals: 53.5
This should be a high-scoring affair as the Chiefs start life without Tyreek. They'll have to spread the ball around more and have some mild talent to do that with Juju Smith-Schuster, MVS and rookie Skyy Moore all coming in. You have to think it means double-digit targets for Kelce at least to start the year, and it looks like RBBC as well led by Clyde Edwards-Helaire, but with 3 guys behind him, I think they'll mix it up. Strong OL still and they strengthened pass rush too.
The Cardinals always start seasons strong under Kingsbury but they'll do well to start with a win here without Hopkins or Rondale Moore. I guess new signing Marquise Brown, Andy Isabella and AJ Green are going to get a lot of touches? It's not pretty. Zach Ertz may be the more sensible player to look for in the passing game. Murray is probably going to be running a lot behind a poor offensive line which will make like tough for James Conner.
I don't rate either defense too highly so I'm expecting points, mainly for the Chiefs. I think they win and cover.
Las Vegas Raiders +3.5 @ Los Angeles Chargers: 52
The Raiders will more than likely have more fans in SoFi than the Chargers here which is good for Derek Carr as he starts the season with his college teammate and probably WR1 of the league Davante Adams at WR. He comes into a good offense and will help Darren Waller and Hunter Renfrow get lesser coverage. Josh Jacobs starts at RB with, somehow Ameer Abdullah expected to get 3rd down work.
The Chargers are the ultimate hype team of the summer, as they are most years and frankly they should probably be shorter odds for the Super bowl, they've strengthened both sides of the ball and Justin Herbert could be the MVP this year. Austin Ekeler scored a rushing and receiving TD against the Raiders in each game last season, while Keenan Allen and Mike Williams are up there as one of the top duos in the league. Khalil Mack came in to go with Joey Bosa as probably the beset rush duo up front and they brought in help in the secondary too.
Are the Chargers gonna Chargers? Maybe, but they should win and cover here. Ekeler at 8/11 seems a decent price
New York Giants +5.5 @ Tennessee Titans: 44
The Giants have the easiest schedule in the league this year and kick off against the AFC #1 seed from last season. I actually think they'll be all right this year but a lot comes down to Daniel Jones. He's got a new OC who will improve the offense and Sqauon Barkley is healthy, it looks like he'll get more passing work than previously in this scheme. They have a host of pass-catchers , Kadarius Toney probably the most exciting of them, but Wan'Dale more had a promising preseason. They aren't good on defense.
The Titans seem in a halfway house, Ryan Tannehill was terrible last we saw him but is a decent enough QB. They'll be relying on Derrick Henry staying healthy, that's no issue here and he'll probably be in line for 30 carries. The passing game is Robert Woods and Nick Westbrook-Ikhene, not exactly show-stopping and the loss of Harold Landry on defense is a hit for them. I spoke about the Bengals not being talked about, the Titans must be the least talked about former 1-seed in history.
I want to take the Giants to pull off the upset here, but I won't back against Henry having 150 and 3 TDs.
Green Bay Packers -1.5 @ Minnesota Vikings: 46.5
Aaron Rodgers could be in a little trouble here, the offensive line doesn't have their two best players tonight, he's without his target hog from the last 3 seasons, and even the man he said was their WR1 now, Allen Lazard is missing this one. Sammy Watkins WR1? That's not promising… Romeo Doubs had camp-hype while Christian Watson missed most of it but could return. So I've got to think it will be a whole lot of Aaron Jones and AJ Dillon running and catching from the backfield. Jones receptions a line to look for, o4.5 at minus odds is probably a litlte skinny for me though.
There's a lot of talk around the new look Vikings offense with people expecting them to be like the Rams with Justin Jefferson the Cooper Kupp for this team, he's definitely got the talent so we'll see how that goes. Adam Thielen is a good WR2 and is healthy, but there's not a while lot of pass-catching talent behind them two. Dalvin Cook is one of the best RBs in the league and will get loaded up. I'm not convinced by their defense, but Zad Smith and Danielle Hunter are very good up front.
Everything is leaning to the Vikings winning this one, but I'm not as positive on their outlook as most other people seem to be. I would still lean their way getting points at home. I'm very high on AJ Dillon this year so 7/4 for him to score at 365 is good with me
Tampa Bay Buccaneers -2.5 @ Dallas Cowboys: 50.5
Tom Brady is old, and now has a weak offensive line in front of him, this might be the start of him actually looking old on the field instead of some age-defying deity under centre. He may well have all his weapons here though as it seems that Chris Godwin will be active for the game although they probably want to ease him back. Mike Evans is a stud and Russell Gage could be good with Brady. The Buccs defense is typically fantastic against the run and will get pressure up front as well.
The Cowboys have serious OL issues as well, so this could be a sack-heavy game. They gave away Amari Cooper meaning that a lot will be on Ceedee Lamb's shoulders in the passing game, he and Dalton Schultz will be heavily targeted with Michael Gallup out through injury. Rookie Jalen Tolbert had a rocky pre-season but will probably be WR2 when things settle down, Noah Brown is a name my Cowboy-fan-friend has given me so maybe worth a look. Zeke and Pollard are both very good, but against this Bucs run defense I won't be looking over on their lines.
I guess I lean to the Bucs, but this game could be carnage with the supposed weakness of the offensive lines.