| SoS | | Win Total | Div. Odds | Conf. Odds | Superbowl Odds |
| --- | --- | --- | --- | --- | --- |
| 22 | Kansas City Chiefs | 11.5 | 1.25 | 4.25 | 7.5 |
| 4 | Denver Broncos | 7.5 | 11 | 26 | 56 |
| 23 | Los Angeles Chargers | 7.5 | 11 | 23 | 51 |
| 2 | Las Vegas Raiders | 7 | 15 | 31 | 71 |
Kansas City Chiefs
Last year; 12-4, Division, Superbowl Winner
The Chiefs took down the 49ers in the Superbowl last year to get Andy Reid his first Lombardi. The playoffs showcased why Patrick Mahomes earned his HALF A BILLION dollar 10 year contract in the off season. He's the best in the game at the moment and I personally think this is the start of a dynasty for the Chiefs. Maybe I'm a little early there, but he and Reid are a great partnership I can see them winning multiple titles.
Mahomes obviously had a drop off from his 50 TD, 5000 yards season the year before, but he wouldn't have been too far off that yardage had he stayed healthy throughout the season. I was up at 130am watching the Denver game where he did his kneecap and thought he'd be out for months but he returned 3 weeks later throwing 50 times for 446 yards (both highest of the season) in a narrow defeat to the Titans; (Weirdly the only games they lost with him playing last year were against teams from the AFC South). Recovering that quickly was ridiculous, and I'm sure it took him a while to get fully fit. He led his team to 4 consecutive TDs in their amazing comeback against the Texans in the playoffs, then ran in a 27 yard TD against the Titans a week later before firing them to glory in the Superbowl.
Tyreek Hill missed 4 games last year as well, he may be a pretty fucking terrible human being, but he's awesome on the field and with his pace can do things that not many others can, over a full 16 games he'll go over 1,000 and 10 TDs this year. He leads a very pacy group, Sammy Watkins, Mecole Hardman and Demarcus Robinson all return this year as did pretty much all of their offense. Watkins is frustrating, he had a 3 TD game to open the season then not much until the playoffs where he balled out. Mecole is great for bestball leagues and expected to step forward again this year, and Robinson did well with Tyreek missing out.
The main man in their passing game though is BEST IN THE LEAGUE tight end Travis Kelce. He had a surprisingly quiet year on the TD front until the playoffs, with only 5 TDs during the regular season (he had 4 in the post-season) so I'd expect that to bounce back, but his yardage was there as it always is, his fourth year in a row over 1,000 yards. Ricky Seals-jones came in at backup as well, he's not bad.
Running back has been mixed up with Superbowl MVP-runner up Damien Williams one of two Chiefs starters opting-out due to Covid fears. He has never been considered a top back but did a good job in the Chiefs offense, as most do, so the hype around rookie RB Clyde Edwards-Helaire has blown to astronomic proportions. He was apparently requested by Mahomes and they made him the first RB off the board at pick 32 in the draft. He is a brilliant pass catcher and good between the tackles, so in this offense he should do pretty damn well. Backup to him is Deandre Washington, Darrell Williams and Darwin Thompson but it looks likely Clyde will get most of the load.
Defensively they stepped forward last year but still aren't one of the best in the league, Tyrann Mathieu helped make the secondary a decent unit, they signed Chris Jones to a long-term deal, Frank Clark returns and it looks like Jaun Thornhill will be back from injury for the start of the season after a good rookie year too.
They should win the division easily, they tend to own the 3 teams in it, winning all games against them last year. I've got money on them winning it all again. It's between them and the Ravens for the AFC in my eyes. They're actually underdogs in 2 games, at the Ravens (week 3, what a game that'll be) and at the Saints.
Chiefs related player prop bets. (see Oddsheet for bookie)
| | Last yr. | Lowest | Highest |
| --- | --- | --- | --- |
| Patrick Mahomes pass yds. | 4031 (14) | 4499.5 | 4500.5 |
| Mahomes TDs | 26 (14) | 34.5 | 35.5 |
| Edwards-Helaire rush+rec. | | 1250.5 | |
| Edwards-Helaire rush yds. | | 850.5 | |
| Edwards-Helaire TDs | | 7.5 | |
| Tyreek Hill rec. yds. | 860 (12) | 1150.5 | |
| Tyreek Hill TDs | 7 (12) | 8 | |
| Travis Kelce yds. | 1,229 | | |
| Travis Kelce TDs | 5 | 8.5 | |
Los Angeles Chargers
Last year; 5-11, Fourth
This is where the division gets interesting. The other 3 teams. I think it could be any of them in any order in all honesty, but I think the Chargers roster takes them to second place. They were involved in 11 one-score games last season, winning only 2 of them, that kind of thing usually regresses to the mean, could have been down to Rivers? Could be coaching, or maybe just luck. One of those things changed this year, so we'll see.
Philip Rivers left the Chargers after 20 years under center there. He might be the best QB around at the moment to have never won a Superbowl, but the time came and they made the change. It will be Tyrod Taylor starting, whom Coach McDermott knows well from their time in Buffalo, he's mobile, but doesn't put up the numbers. He should do a job there at least and if the defense is as good as it looks on paper that might be enough, if not they've got #6 pick Justin Herbert waiting to come in. He's got the look of an NFL QB but people I trust on college football aren't expecting too much from him. 3,500 yards, 32 TDs in 14 games in his final college season last year.
It makes it very tough to figure out what's going to happen at WR for the team. Keenan Allen usually hits ~100 receptions, over 1,000 yards and as one of the best route-runners in the game will help out whomever is at QB for the team. Whether he gets the targets or not is something I just can't judge. Mike Williams should be the TD threat for them, 10 in 2018, yet somehow only 2 last year from more receptions, I've got to think he'll be somewhere in the middle. The worry is that there's not a whole lot outside of those two, the likes of rookie Joe Reed, Darius Jennings, KJ Hill, not exactly household names
So I think there's a decent chance that newly-minted Austin Ekeler plays quite a lot of slot snaps this year. He had a breakout year last year with Melvin Gordon sitting out the start of the season. He took his opportunity and secured the main RB role in his team finishing the year with 1,550 yards from scrimmage and 11 total TDs. 2/3s of his yards came through the air so I'm still not convinced he's that good between the tackles, a 4.2 ypc isn't bad but they kept him quite limited there still so while he's officially the starter the others will get snaps too. Justin Jackson seems to be the first to benefit from carries at the moment but people seems to like Joshua Kelley who they picked up in the 4th round this year.
They'll be hopeful of a full season from Hunter Henry for the first time as he's always been a reliable redzone weapon when he's been on the field; 17 TDs from 41 games with his receptions rising every year despite games decreasing. 32 year old Virgil Green will step in if HH goes down again.
The defense is stacked. Arguably the best defensive roster on paper in the league with highest paid defender Joey Bosa and Melvin Ingram up front, Chris Harris jnr coming in from Denver to join Casey Hayward, Denzel Perryman, Desmond King at CB, Derwin James is one of the two top safeties in the league and Nick Vigil and Kenneth Murray come in to solidify the LB corps. They traded back into the first round to get Murray from LSU so they obviously like him.
I like the point market that bet365 usually put up each year, if they put one up there I'll be looking at taking the under for them this year, I think there will be a lot of low-scoring one-score games again this season for the Chargers. In typical Chargers fashion they're favoured in 7, dogs in 7 this year; Another positive though, playing in front of ZERO fans will be of benefit to them as they're used to playing with away crowds every game. Zing.
Chargers related player prop bets. (see Oddsheet for bookie)
| | Last yr. | Lowest | Highest |
| --- | --- | --- | --- |
| Austin Ekeler rush+rec yds. | 1,550 | 1350.5 | |
| Keenan Allen rec. yds. | 1,199 | 1000.5 | |
| Mike Williams rec. yds. | 1,001 | 800.5 | |
| Hunter Henry | 652 (12) | 675.5 | |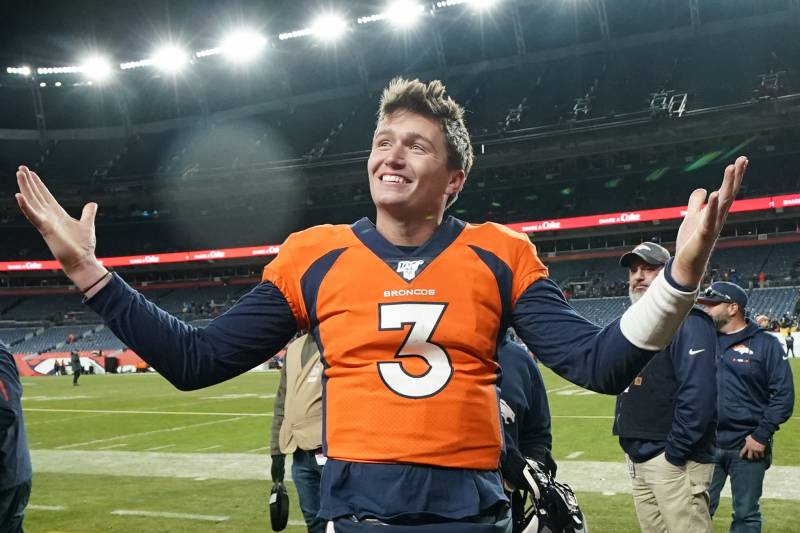 Denver Broncos
Last year; 7-9, Second
HYPE HYPE HYPE HYPE HYYYYYYYYYPPPPPPPEEEEEEEEE. The train is leaving the station and it's over-flowing.
Drew Lock is the starter with no challenge and he won 4 of 5 games at the end of last season averaging 200 yards per game, 7 TDs. The numbers weren't there, but it was a good introduction to the league for Lock. He has to improve to take the team where they want to be this year though and they've done a fair bit to help him with that this off-season.
Courtland Sutton impressed for them last year finishing the year with 1,112 yards and 6 TDs last year, he should be the #1 for them there this year and he's got the ability to be very good. They brought in Jerry Jeudy and KJ Hamler through the draft which improves that unit, coming 'Bama Jeudy (26 TDs in 36 games) was the most pro-ready receiver coming into the NFL so he should fit in quickly in the slot for a Denver team lacking quality at that position, and Hamler is a speedster who should open up the offense for the others.
Noah Fant is a name most fantasy players are looking to in later rounds at TE, he had 4 games over 60 yards, 12 below 40 last year so consistency will be an aim this season, TE is always a tough rookie position so he should be better this year. Albert O (I'll stick to that) came in the draft and Jake Butt was quite highly thought of before suffering a horrible injury which has hurt his pro-career so far.
They strengthened at RB bringing in Melvin Gordon who had offers but wanted to stay in division to piss off the Chargers. I think he'll top his 1050 line as he'll be the main man there, but Philip Lindsay won't be displaced easily after going over 1,000 yards and 7 TDs last season, and it seems likely to be a 1a, 1b kind of committee back there. Royce Freeman as the third wasn't terrible last year either.
The defense should be as good as ever with Fangio at head coach one of the better defensive minds in the league welcoming back Bradley Chubb to team up with Von Miller at pass rush, they replaced Chris Harris with AJ Bouye so shouldn't lose much there and Simmons and Jackson fill out a decent secondary.
It's a big year for Lock and the Broncos as the hype has grown on them. The defense will likely be better than the offense in my eyes. I'm not convinced on Lock, he's got it all on his shoulders this year and will have to step up. If he does they might finish second, if not, then who knows. It's a rough schedule for them (faved in 5 games), and lack of fans will hurt them. They do start with a home game though which usually means a win. They've won 4/5 week 1 games the last 5 years.
Broncos related player prop bets. (see Oddsheet for bookie)
| | Last yr. | Lowest | Highest |
| --- | --- | --- | --- |
| Drew Lock pass yds. | 1020 (5) | 3425 | 3450 |
| Drew Lock TDs | 7 (5) | 21.5 | |
| Melvin Gordon rush+rec yds. | 908 (12) | 1050.5 | |
| Melvin Gordon rush yds. | 612 (12) | 775.5 | |
| Courtland Sutton rec. yds. | 1,112 | 1050.5 | |
| Jerry Jeudy rec. yds. | | 750.5 | 774.5 |
| Jerry Jeudy TDs | | 5.5 | |
Las Vegas Raiders
Last year 7-9, Third
It should have been so much fun having a team in Vegas, but it looks like there won't be any fans allowed in the stadium this year. It's a shame as the Raiders actually had a decent first season with Gruden in charge, it was the first step in their rebuild and they were better than I expected.
They have a top 5 rated offensive line behind which Derek Carr actually had one of the better seasons of his distinctly average career, highest yardage, highest completion percentage, highest yards per pass and passer rating. He's basically Andy Dalton but with a bigger contract. So really, it's a little harsh that they brought in Marcus Mariota for competition and paid him pretty well for a backup.
They have added a shit ton of weapons on offense though, Henry Ruggs was the first WR off the board and will likely play in the slot, honestly I thought he'd be a down field burner, but he played most of his games last year in the slot, they got him in space and let him use his speed to break off down field. Bryan Edwards seems to be a sleeper in fantasy at the moment, should be able to break off some decent yards after catch and Lynn Bowden is a swiss army knife kind of player, listed as RB, but played a lot of wildcat QB at Kentucky, rushing for 1,468 and 13 TDs while throwing 3 last year. These rookies go alongside Tyrell Williams and Hunter Renfrow who might find his work limited as he does a lot of his work in the slot, as well as Zay Jones and Nelson Agholar. There's a lot of bodies there at least. Not sure there's a bona fide #1 but there's guys there.
Darren Waller had 1,145 yards in his breakout year at TE last season, he's a great story and I hope he keeps his career going well but I think he'll be dropping off last year as a result of the competition for targets. He didn't have many TDs last year with just 3, while rookie Foster Moreau had 5.
They've got a stud at running back with Josh Jacobs coming into his second year after a very successful debut season. He finished with 1,150 yards from just 13 games, 7 TDs. He was criminally under-used in the passing game last year as he came in one of the better pass catchers of any position in last years draft, just 20 receptions last year. However unfortunately they brought back Jalen Richard who will likely be in as the pass catching back again this year.
The defense was second worst in the league according to DVOA last year despite some high points, Maxx Crosby had a great first year and Clelin Ferrell should improve up front. They brought in Corey Littleton and Nick Kwiatkowski at linebacker, Prince Amukamara at CB to bolster that area and Johnathan Abram should be back at safety after a good start last year before injury.
Again, they could easily be second in this division. I don't think they will but at the same time I wouldn't be shocked if they did. The bookies aren't keen on them, only favourites in 2 games all season, which is part of having the second toughest schedule this year. They get off to a very tough start (after the opener at Carolina) to the season, so I've got to lean to them propping up the division unfortunately.
Raiders related player prop bets. (see Oddsheet for bookie)
| | Last yr. | Lowest | Highest |
| --- | --- | --- | --- |
| Derek Carr pass yds. | | NO | LINE |
| Derek Carr TDs | | NO | LINE |
| Josh Jacons rush yds. | 1,150 | 1100.5 | |
| Henry Ruggs rec. yds. | | 740.5 | 800.5 |
| Henry Ruggs TDs | | 4.5 | |
| Darren Waller rec. yds. | 1,145 | 900.5 | |
Summary
I don't think there's many people anywhere, even in Denver who would have someone other than the Chiefs winning the division. The rest of it though is a tough call. I've gone Chargers, Broncos, Raiders. I think the Chargers have the most complete roster and experience at QB, the Broncos could potentially be good but a lot of question marks and the Raiders schedule is really tough.
Best bet(s)
Henry Ruggs OVER 4.5 TDs – 1.73 (Paddypower)
---
If you want in the TDTips fantasy leagues and haven't submitted your details yet then go over to TDTips fantasy leagues