SoS
Win
Total
Div.
odds
Conf.
Odds
Superbowl
Odds
23
Baltimore Ravens
11
1.5
4.5
8
26
Pittsburgh Steelers
9
5
15
29
28
Cleveland Browns
8.5
8
21
41
8
Cincinnati Bengals
5.5
34
101
151
Baltimore Ravens
Last year; 14-2, Division winner
The Ravens swept through the league last year securing the #1 seed in the AFC only to get dumped unceremoniously out in their first playoff games by Derrick Henry and the Titans. It was the second year in a row that Lamar Jackson and the Ravens lost their first post-season game.
Their two losses last year came in week 3 and 4 to the Chiefs and the Browns respectively, but they seemed like blips on the radar as they went on to win 12 in a row after those games winning 9 of their 14 games by 9 points or more whilst accruing the most points scored (531), the most rushing yards (by nearly 1,000 over 2nd places SF) the most TDs thrown, and the MVP for Lamar Jackson.
It really was exciting to watch and an indictment of the coaching staff who have based their whole offense around a player who many thought should have run drills as an RB in the draft process. It's safe to say they've utilised his talents well, whilst knowing that he's still a capable passer. The success of their run game (most rush yards in history, most 4th downs in history) is almost entirely on the back of Lamar Jackson being so adept at using his legs and his impressive abilities in disguising hand-offs to RBs. As soon as you bite on one of them he's gone. He led the team in rushing yards in half of their games last season.
The passing game was ruthlessly efficient last year with Lamar throwing TDs on nearly 9% of his attempts last season. Something which is usually not repeatable. (League average last year was 4.5%) – I am fairly sure that will regress, but they've stocked up at WR to help him out as well with Devin Duvernay, James Proche coming in and Marquise Brown fully fit after being hampered for a lot of last year with an injury he brought through from college, they will also be looking to get more from Myles Boykin who didn't add a whole lot from last years draft class.
Mark Andrews was the main man for them in the passing game though with 852 yards and 10 TDs. He's a major red-zone threat and I'd imagine that won't change too much this year.
This year expect more of the same. They have lost Marshal Yanda on the O-Line which could hit them, but I believe enough in the coaching that it won't slow them too much. The run game should be aided by the drafting of JK Dobbins in the second round to go alongside Ingram, Edwards and Hill in the backfield. Expect Dobbins to mix in straight away and probably play more of a role through the season.
The defense finished 8th in turnovers last year and has always been a strength of the Ravens. Linebacker was one spot people thought they were a little short on, but winners always win and they landed arguably the best guy at that position in the whole draft with LSU's Patrick Queen falling to them in the first round. He could be a decent look for DROY best priced at 12/1 over on Paddypower.
Opening odds from betonline.ag have them as favourites in every game bar one where they're a pick'em @ Pittsburgh in week 12 and if they happen to need a few wins at the end of the year to get the top seed, or god forbid, make the playoffs then they're in a good spot too playing the Jags, Giants and Bengals in their final games.
Ravens related player prop bets. (see Oddsheet for bookie)
| | Last yr | Lowest | Highest |
| --- | --- | --- | --- |
| Lamar Jackson pass yards | 3,127 (15) | 3199.5 | 3250.5 |
| Lamar Jackson TD passes | 36 | 26.5 | 26.5 |
| Lamar Jackson rush yards | 1,206 | 919.5 | 975.5 |
| Marquise Brown rec. yards | 584 (14) | 800.5 | |
| Mark Andrews rec. yards | 852 (15) | 900.5 | |
| Mark Ingram rush yards | 1,018 (15) | 750.5 | |
Pittsburgh Steelers
Last year; 8-8, second
The Steelers finished with a very respectable .500 record given how badly their season was messed up by Big Ben going down in their second game of the season. He went into the opener with an elbow injury, played shite, tried in the second game vs the Seahawks and came out of the game leaving them with Rudolph and Hodges for the remainder of the season. They were terrible. So to leave the season with the record they had was incredibly impressive.
That was achieved basically from the pickup of Minkah Fitzpatrick for the their first round pick after that week 2 loss to the Seahawks. He was the final piece they needed in that defense and with his addition they went on to lead the league in turnovers with 38 in total. It's generally not a sticky stat, and I doubt they'll play to that level again this year, but they shouldn't need to to have a similar record this year. They're annoyingly well set up on defense with TJ Watt leading the charge up front (who I think is good value at 14/1 on 365)
We can't talk about the offense last year such was the ineptitude of Rudolph and the duck (only 3 games over 200 yds passing) . Big Ben is back after surgery, apparently slimmer than usual, he's off his wanking and alcohol diet and seemingly ready for the season. It all depends on him basically. Last time he played a full season in 2018 he topped 5,000 yards. Admittedly with Antonio Brown, which helped, but if he can be even half that level he's still better than what they had last year.
For me (I fully admit I'm biased here), I still think the jury is out on whether Juju is a #1 receiver. I've just not seen it and he didn't impress last year despite some of his team-mates being able to put up decent numbers. Diontae Johnson was a rookie and impressed with what he had, he got good separation and finished with 680 yards and 5 TDs. If he, James Washington or even rookie Chase Claypool can prove themselves a main target that'll help Juju who is more than adequate in the slot. Claypool is an interesting one, the physical attributes are there but he's very raw. Luckily the Steelers are the only team in the league capable of developing receivers, so at least he's landed in a good spot.
Running back James Conner was in and out last year due to injury and again didn't impress. He's bulked up a lot over the summer though and will be hoping to stay healthy. Benny Snell isn't great, it looks like they might release Jaylon Samuel and they drafted a pass catching back in Anthony McFarland in April to add competition.
The Vance dance failed to wiggle last year so they made a move there with Eric Ebron coming in off a poor season. He was famously drafted before Odell Beckham when they picked him up, so again the physical talent is there and he had a 13 TD year a couple of years back so he'll likely be a decent red zone weapon for them.
So, this season… I am ashamed to say I've got a win totals acca with them over 9. The defense will regress, the offense can't be any worse. They'll meet in the middle and with a pretty cushy schedule (faves in 10, dogs in 5 and pick in 1 game) they've got a very good chance of making the playoffs now that it's extended to 7 teams per conference.
Steelers related player prop bets. (see Oddsheet for bookie)
| | Last yr. | Lowest | Highest |
| --- | --- | --- | --- |
| Big Ben yards | 351 (2) | 3800.5 | 3850.5 |
| Big Ben TDs | 0 | 25.5 | |
| Conner rush+rec | 751 (10) | 1234.5 | |
| Conner rush yds | 464 (10) | 775.5 | |
| Juju rec. yds | 552 (12) | 1099.5 | 1100.5 |
| Johnson rec. yds | 680 | 775.5 | |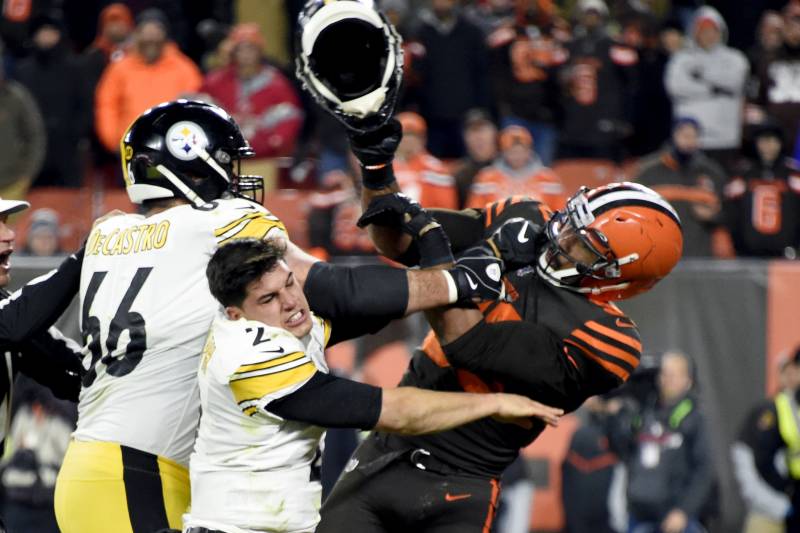 Cleveland Browns
Last year; 6-10, third
Do you know the definition of post-hype sleeper? Something, or someone doing well a year after everyone thought they'd do well but failed… e.g. the Cleveland Browns. THE hype team of last year, they had the talent, people thought they had the coach, he was the one who got the best out of Baker Mayfield after all…. but it all went wrong. The offensive line wasn't up to scratch, Baker concentrated more on commercials than producing on the field and it led them to this record.
They've made moves to fix their issues though, they brought in Jack Conklin at guard, drafted a Jedrick Wills at 10 and replaced Freddie Kitchens with the Vikings OC Kevin Stefanski at head coach. Oh and Baker is suspiciously quiet this off-season as well saying that he's all about the football this time around.
They've still got one of the best rosters in the league though. A #1 overall pick at QB, probably the best RB duo with Chubb and Hunt, 2 of the better WRs as well with Odell and Jarvis Landry. So frankly, it's tough not to think they'll do well again this year even after getting burned by their under-performance a year ago.
Chubb finished second in rushing yards with a touch under 1,500 last year, 7 games over 100 yards, but only 8 TDs on the season. It was a season of two halves for him really, with and without Kareem Hunt. 6 of his 8 scores came before Hunt was back from suspension, his passing work was practically non-existant and even his rushing attempts lowered. The Browns redzone work was utterly terrible and HAS to regress to the mean. It should mean an uptick in TDs, but I don't think he'll put up the yardage with Hunt there. It sounds like there's a decent chance Kareem Hunt plays quite a lot in the slot with him being as good as he is through the air and the lack of any decent talent beyond the obvious two in the passing game.
Reportedly Odell Beckham played through the year with a core injury which could explain why he didn't really connect with his QB. One of them seemed to be out of sync on any one play, whether it was Baker not getting the protection he needed, or Beckham a millisecond off. Surprisingly given how poor the Browns seemed he still topped 1,000 yards last year, but only 4 TDs is something I expect to rise. His bestest bud in the whole wide world Jarvis Landry led him in yards and TDs last year. He's a mighty talented chap in his own right and had a slightly higher yard per catch than OBJ last year, he had surgery over the off-season but looks like he'll be good to go. Outside of those two there's always been chatter about Rashard Higgins but he needs to stay on the field to prove he's worth it. They picked up Donovan People-Jones in the 6th round this year, he didn't do a whole lot in college though so I'm not sure I'm expecting much from him.
They picked up Austin Hooper from the Falcons in free agency and paid him pretty well, although he scored 6 times and had nearly 800 yards for the Falcons last year, to me it seemed a strange move as they already had the athletic David Njoku. With Stefanski being brought it in looks like they'll likely play a lot of 12 personnel, so while Njoku wanted out he's been persuaded to stay and he'll probably get some decent snaps.
The defense should be pretty good too, Myles Garrett is back from his suspension for being a little too aggressive in trying to help Mason Rudolph replace his helmet and is one of the best pass rushers in the league since being picked #1 overall a few years back, he leads a fairly star studded front with Olivier Vernon, Larry Ogunjobi and Sheldon Richardson. The secondary should be good with Denzel Ward, Grant Delpit and Greedy Williams have all been high picks in the last few years in their secondary.
Christ. I have no idea how the Browns are going to do this year. I think they'll be good. I worry they'll be good. BUT I had them being good last year and we all know how that turned out. They're listed as favourites in 8 games, dogs in 6 and pickem in 2… However one of the games they're underdogs is at Jacksonville in week 12… weird.
Browns related player prop bets. (see Oddsheet for bookie)
| | Last yr. | Lowest | Highest |
| --- | --- | --- | --- |
| Baker Mayfield pass yds. | 3,827 | 3800.5 | 3899.5 |
| Baker Mayfield TDs | 22 | 23.5 | 24.5 |
| Nick Chubb rush yds. | 1,494 | 1275.5 | |
| Kareem Hunt R+R yds. | 464 (8) | 850.5 | |
| Odell Beckham rec. yds | 1,035 | 1050.5 | |
| Jarvis Landry rec. yds | 1,174 | 950.5 | |
Cincinnati Bengals
Last year; 2-14, winners… of #1 pick
Safe to say last year didn't go too well for my Bengals. They lost 1st round lineman Jonah Williams before anything happened, and star WR AJ Green went down during their first training session never to take the field again during the season. Obviously we didn't know that at the time and my hope stopped me realising just how rushed and messy the off-season was for the team.
It turns out the high point of the season was the first game of the season, seeing them go into Seattle and look the better team, John Ross taking off as we knew he could, only for them to lose by a point with their kicker missing a field goal. I believe AJ could have come back if really needed, but with the #1 pick in sight they let him rest and the rest is history. Despite the defense being terrible, the team as a whole could be considered unlucky, losing all 8 of the 1 score games they were involved in, a stat which tends to even out over time.
So it's a year of change for the Bengals. The #1 pick turned out to be a no brainer as they brought in Joe Burrow, who had the single best season in college history taking his LSU team to the championship, not even the Bengals could fuck that one up, WR Tee Higgins was picked at the top of the 2nd, his favourite team and player growing up? Bengals and AJ Green. They went triple LB and picked up a lineman and a DE.
Knowing they were going to have a rookie QB contract to build around for the foreseeable future they, for once spent in free agency. A big deal for DJ Reader at nose tackle, a sizeable contract for Trae Waynes at CB, alongside Mackenzie Alexander both of them from the Vikings, and finishing off the big name signings with Vonn Bell from the Saints. It was really quite something for fans used to utter inaction from their team. Of course one of those guys is already injured, such is the Bengals way.
Most first overall draft picks come into terrible situations and while the offensive line is a worry for the team still. He definitely has some talent to use. He's got one of the best RBs in the league in the shape of Joe Mixon, with Gio Bernard as backup. Mixon topped 1,000 yards again last year and his second half of the season was amazing, how he managed to get yardage from having 4 guys on him in the backfield I'll never know but he did it a few times. They chucked him a TON of carries, shifted blocking patterns and personnel in the offensive line and it looked a hell of a lot better than the first half of the year.
The wide receiver corps is talented too, AJ Green, Tyler Boyd, John Ross, Tee Higgns as probably the top 4, not to mention Auden Tate who's highlight reel was up there with the best in the league last year. Boyd had to be the main man again with Green out, and he went over 1,000 for the second year running. He's shown he can do it alone, but he's better with Green in there. I personally believe if Green stays healthy he'll still be great, but that seems a decent sized "if" at the moment. John Ross can be a great asset in this team if he can stay fit too, and they should all get better passes thrown their way this year with Burrow there. Higgins was a first round talent in the Bengals opinion so they jumped at getting him in the second, he is likely Greens replacement, playing in a similar style to him and finishing his three years in college with 27 TDs, the same amount Deandre Hopkins and Sammy Watkins got for Clemson.
The defense was the main issue last year. The D-Line looks damn good on paper though, Geno Atkins, Carlos Dunlap, DJ Reader along with Hubbard and Lawson, as well as the recently picked up Mike Daniels after his release from Green Bay. -13 in turnovers put them joint second worst in the league last year, another typically 'non-sticky' stat. They seem to have realised that was the issue with the off-season business, and again it's typical of the Bengals that the year they overhaul an area of the team they don't have any real off-season to get shit sorted out. Of course i'm still optimistic for them but it might take a while to settle in.
I want to be high on the Bengals, I really do, and I'll probably still enjoy watching every game they play this year, but the schedule is somehow fucking horrible and the bookies know it, having them as favourites in just ONE game all season when hosting the Jaguars. Chargers, Browns, Eagles for a rookie QB behind a suspect offensive line is not the best way to open the season, and ending with Cowboys, Steelers, Texans and Ravens… yeah that's not nice either. I'd love to take them o5.5 wins, but I just can't do it.
Bengals related player prop bets. (see Oddsheet for bookie)
| | Last yr. | Lowest | Highest |
| --- | --- | --- | --- |
| Joe Burrow pass yds. | | 3700.5 | 3800.5 |
| Burrow TDs | | 21.5 | 22.5 |
| Mixon rush yds. | 1,137 | 1150.5 | |
| Tyler Boyd rec. yds | 1,046 | 950.5 | |
Summary
Barring a Lamar Jackson injury it's tough to see anyone other than the Ravens winning the division. 1.50 (888) isn't terrible in fairness but it's not something I'd bet on. If Big Ben stays relatively healthy then while their defense probably falls back the offense should meet them in the middle. The Browns could be anything and therefore I don't have much consideration for bets on them. the Bengals? Arguably you'd be sensible to take the under but it's always a risk going under such a low line and Burrow could be really good.
Best bet(s)
James Conner rushing and receiving yards – UNDER 1234.5 – 1.83 (PaddyPower)
Joe Burrow OVER 21.5 TDs – 1.95 (888)
---
If you want in the TDTips fantasy leagues and haven't submitted your details yet then go over to TDTips fantasy leagues
Of course we'll have weekly Draftkings contests as well, if you've not got an account there then give it a week or two and there will likely be some decent new account offers on the way before the start of the season.